AllDealsthailand.com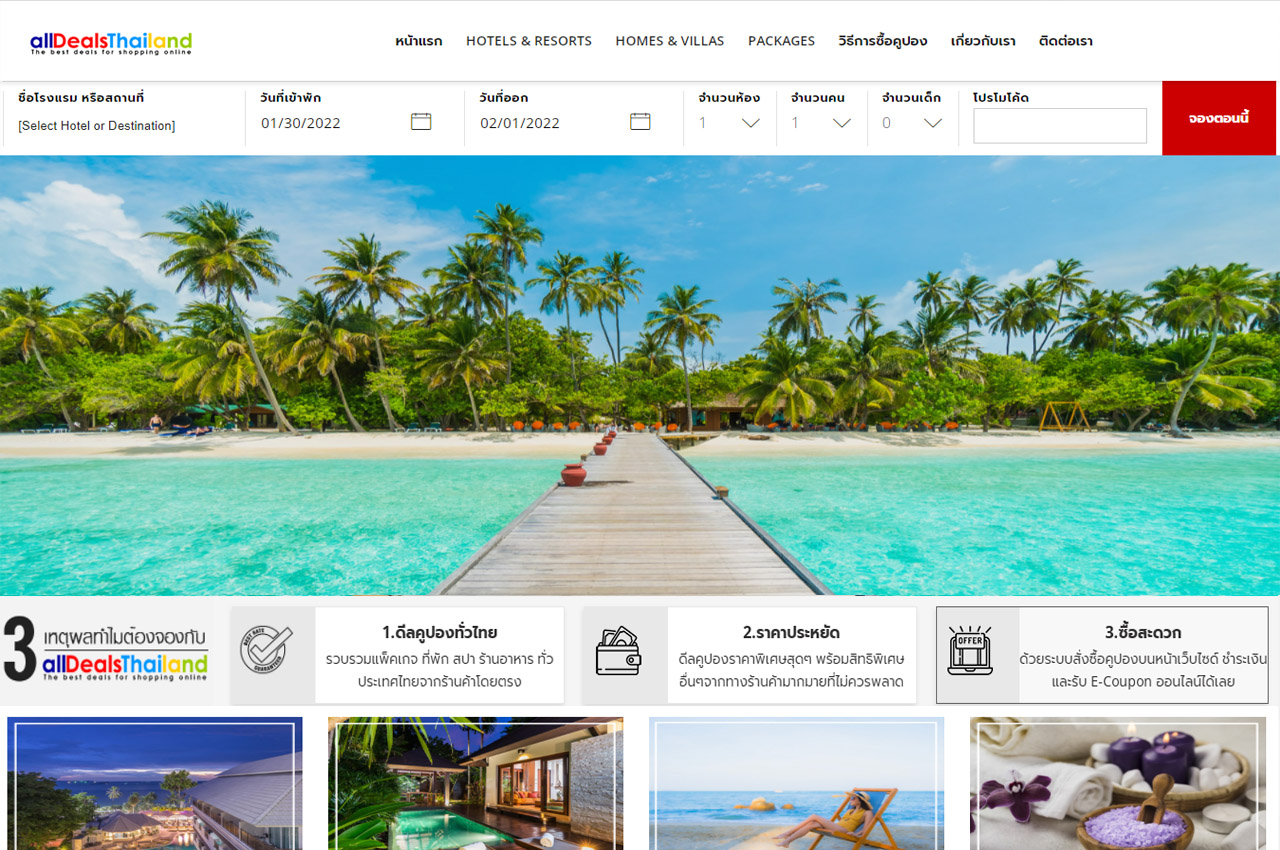 แหล่งรวบรวมดีลพิเศษ คูปองส่วนลด ดีลที่พัก ดีลโรงแรม ดีลท่องเที่ยว ดีลอาหาร ดีลสปา ที่ตรงกับความสนใจของท่านไม่ว่าจะเป็นที่ไหนในประเทศไทย เสนอสินค้าให้กับผู้ซื้อทุกๆวัน ในเงื่อนไขและราคาพิเศษสุด กล้ารับประกันว่าคุณจะได้รับข้อเสนอที่ดีและคุ้มค่า เนื่องจากเราป็น เว็บดีลที่รวบรวมดีลพิเศษ คูปองส่วนลด ดีลที่พัก ดีลท่องเที่ยว ดีลอาหาร ดีลสปา ลดพิเศษ สูงสุดถึง 50-90% ข้อดีของการเป็นสมาชิก คุณจะได้รีบดีลพิเศษสุดก่อนใครและ ท่านยังจะมีโอกาสได้รับของรางวัลพิเศษอีกมากมาย จากแคมเปญที่ทางเราจัดทำเพื่อสมนาคุณลูกค้า อย่างต่อเนื่อง
Alldealsthailand: AllDealsThailand.com is a group-buying engine, which showcases bargain deals for travel, health, lifestyle, and a whole gamut of other products and services. A spin-off to the AllDealsthailand Rates that its parent company has been offering on their website, AllDealsThailand.com serves as a platform to offer savings for great products and services at "AllDealsThailand rates".
Launched on the 15th of March, 2011, the website aims to offer great bargain deals that will surely cater to a wide range of customers. Further, AllDealsThailand.com steps beyond the norm of just offering travel-related products, which its parent company is known for. It ventures into providing its customers a plethora of health and lifestyle deals with significant discounts, without compromising quality or quantity.
Apart from its regional deals that are available for all types of consumers, AllDealsThailand.com makes the choices even more interesting as it offers local products and services for the domestic market. This means that not only do buyers gain access to the best deals in their country, but to the rest of Asia Pacific as well.
Founders of AllDealsThailand.com have established a good relationship with many hotels and travel providers, as well as lifestyle establishment owners. Having been in the business for over 15 years, the company enjoys a professional relationship with the leading merchants in Asia Pacific, allowing them to acquire some of the best products and services in the market today. And this good fortune is shared with the company's loyal customers via AllDealsThailand.com, and is even sold at considerably low prices by offering group-buying deals.